More Millennials Migrating to Major Cities
Posted by David Fleming on Wednesday, September 22, 2021 at 1:44 PM
By David Fleming / September 22, 2021
Comment
COVID has definitely changed the face of real estate for the last year. It is an absolutely crazy town in the Fort Worth metro area when it comes to real estate. Supply and demand is excruciating and inventory is so low that buyers are scrambling to find homes and among those buyers are millennial's migrating to bigger cities such as Fort Worth, Frisco, Roanoke, and Trophy Club.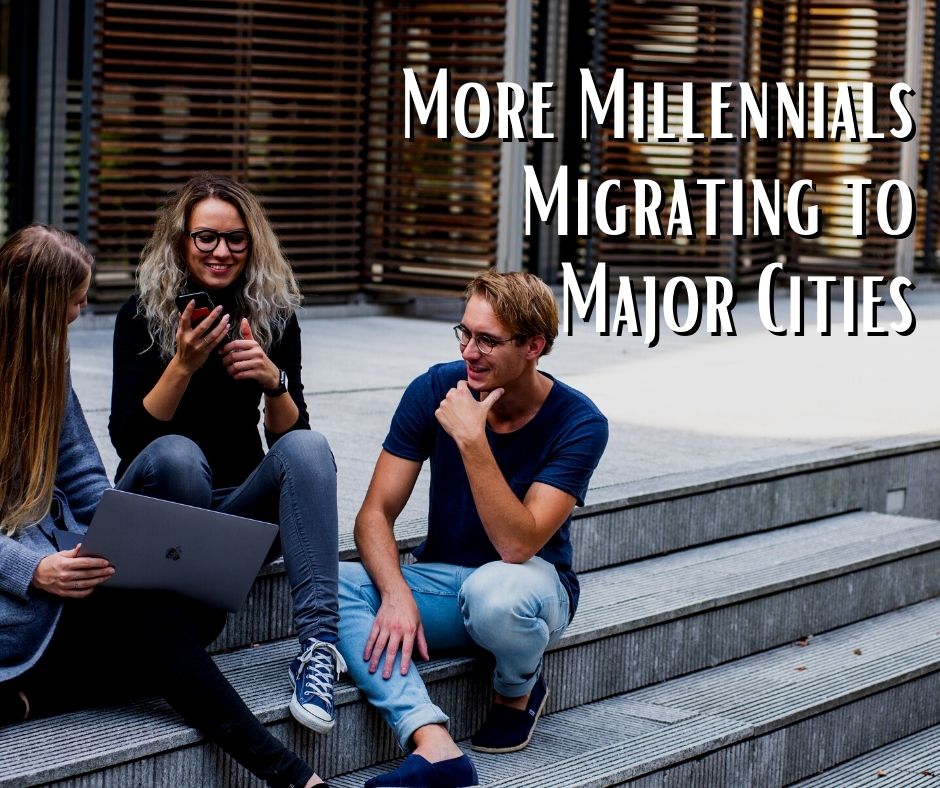 More Millennials are Migrating to Major Cities
Millennials are now entering their prime moving and homebuying years and they're starting to look for homes, build families, and settle down. This is also changing lifestyles as more people are working from home, telecommuting or working remotely when possible. According to a recent report by Opendoor, millennial's are moving to cities and buying homes with much smaller downpayments than the traditional 20%. This report highlighted the importance of planning a budget early and how technology is becoming even more central to the homebuying experience.
A lot of people feel that cities are dying and more people are moving to the country but that's not necessarily true. Suburbs are expanding with more communities that offer a wide variety of amenities and services such as restaurants, markets, schools, churches, and banks right in the community or even within walking distance. And while this is been the norm in major cities, it's not necessarily pushing everyone toward the country or the suburbs either. Despite what a lot of people think, cities are still expanding and people are still migrating to metro areas.
More than a third of millennials say that they're planning to move to big cities and that leaves a lot of homebuying options open for sellers in real estate market in metro areas. According to the report, 35% of millennial respondents said they plan to move or have already moved to larger cities compared to just 24% who prefer the suburbs. Generation X was evenly split with just 29% favoring suburbs and 29% favoring larger cities. In the baby boomer generation, 33% prefer suburbs to just 8% for larger cities.
This isn't happening on its own either. This really is a trend fueled partly by the pandemic economy. There's more inventory available in cities now because of a lot of people moving out and interest rates are so low that affordability of housing in these larger cities is more of an option. Millennials are comfortable with the smaller down payment because of the low interest rate which means their home buying power has increased.
These millennials don't need to put 20% down to become a homeowner. 50% of millennial homebuyers plan to put down about 15% or less compared to just 22% of baby boomers who plan to use smaller down payments. 35% of baby boomers said that they put down at least 26% or more on a home compared with just 11% of millennials in the same bracket.
Obviously, most millennial's just don't have the savings built up that a lot of baby boomers and even Generation X have already saved either through typical cash savings or in existing home equity. Millennials are more likely to use mortgage services and programs that allow for smaller down payments, which can help them become a homeowner faster. FHA, VA, and USDA home loans are ideal among millennial's as they can provide mortgages to folks with a lower down payment or even have less than perfect credit.
However, regardless of what bracket you are in, budgeting is key. The report found that only 40% of homebuyers start by estimating what they'll be able to afford. We understand that home buying is fun but if you start looking at homes before realizing how much you can actually afford, it can lead to a frustrating end. Don't be part of that 60% of people that shop for a home before planning the budget out.
Technology has a role, and not just with millennials
Technology has also taken on a huge role in the home buying experience. Virtual real estate shopping, virtual tours, Facebook live tours, and video have all gained popularity over the last 12 months. Every age group has considered buying a home online and a huge majority of all respondents are looking for virtual showings to remain an option even after lockdown mandates are lifted to the tune of 85% of millennial's and 92% of baby boomers.
It's no secret and no surprise that technology is moving forward at an advanced rate in the field of home buying and real estate. As more things become more digital and more virtual, we will find new ways to purchase homes, get into the home we want, apply for mortgages and even do appraisals and inspections virtually.
While the pandemic has definitely shifted real estate and how we buy and sell homes in the industry, cities still remain popular among younger buyers. If you are a millennial looking for a home in Fort Worth or any age group and prefer to live in the city or in the suburbs, start with David Fleming. I deal with luxury homes, popular downtown condo buildings, suburban gated communities and all types of homes in Keller, Southlake and the following communities. I look forward to helping you with your real estate needs today.